ASIX Microcontroller products include three families: AX6800x USB KVM Switch SoC, AX2200x Wi-Fi SoC and AX110xx Ethernet SoC.

USB KVM Switch SoC
The AX6800x family, Single Chip Micro-controller with USB Host and Device controller, is a System-on-Chip (SoC) solution. Compared with the legacy 4-port USB KVM switch using 12 chips (including one MCU, four USB device MCUs, one USB root hub, four EEPROMs and two bus switches).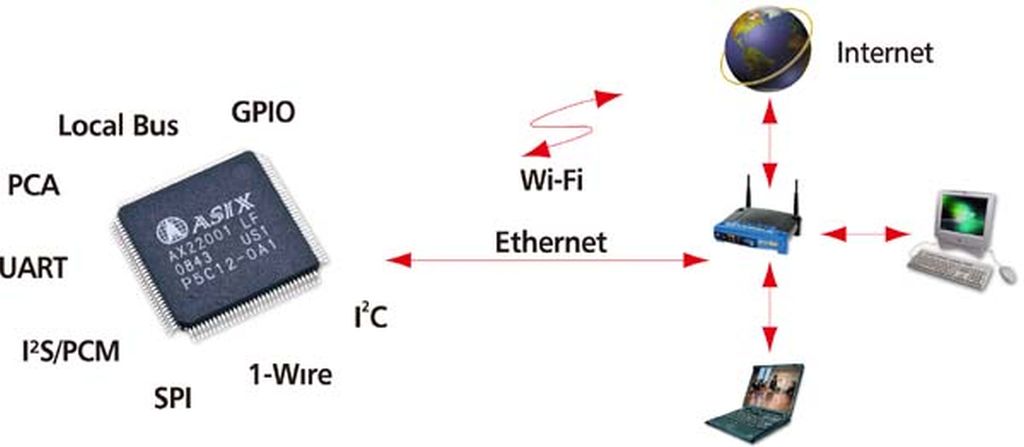 Wi-Fi Network SoC
The AX22001 is a single chip micro-controller with TCP/IP and 802.11 WLAN MAC/baseband. Leveraging prevalent Wi-Fi infrastructure in home and office environment, the new single-chip Wi-Fi SoC, AX22001, provides cost competitive wireless connectivity solution for bridging uncompressed digital audio data, compressed digital video data and serial/parallel user data through its versatile interfaces over the Wi-Fi network.

Ethernet SoC
The AX110xx family is the world's first high performance 8-bit microcontroller to deliver the 10/100Mbps Fast Ethernet MAC/PHY, the TCP/IP accelerator, and the Flash memory in a single chip. With this highly integrated system-on-chip (SoC) solution, the AX110xx family provides a very small form-factor solution to enable embedded system designers to design compact, low power, high performance yet low cost Embedded and Industrial Ethernet applications for the growing Embedded Networking markets.